FOOD INDUSTRY
Prepared Foods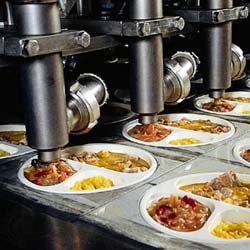 Your customers are demanding greater variety than ever before. The key to sustaining performance is your ability to increase your number and mix of products, while prioritizing food safety and security to protect your brand image and value in the market. We can help you meet cost, quality, flexibility, and regulatory challenges — from raw material through final shipment.
How? Our domain expertise and information-enabled architecture means we can integrate your business systems to optimize utilization of valuable and limited human, physical and financial assets, and minimize waste while satisfying demanding consumers and retailers.
Through our expertise in manufacturing execution systems deployment, we make your manufacturing more agile, allowing for quick product line changeovers and rapid system conversions for new product introductions. We'll link supply chain and factory floor production, converting retailer demand to a plant production schedule, and executing production operations to meet that schedule. By ensuring that different automation technologies work together, from plant floor to ERP, or plant to plant, you can make the best use of different control technologies to balance consistency and variations — and get the right information in the right place, real-time, to make the right decisions.
Extracting Installations