Allen Bradley GuardPLCTM Controller family offers superior speed in PLC throughput and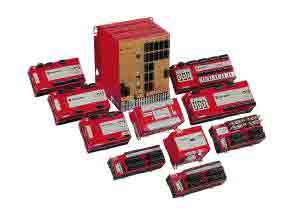 globe standards for functional safety. This family is ideal for sensing speed, direction, zero-speed, temperature, pressure and flow applications. These controllers communicate on a safe Ethernet communications network that is TUV-certified for use in safety applications up to EN954 Category a and SIL 3.
Overview

 

Features

Integrates easily into a standard control system
Communication options include GuardPLC™ Ethernet (proprietary protocol), EtherNet/IP™, Modbus, Profibus and ASCII
Offers a single-wire Ethernet solution, running distributed safety I/O on GuardPLC Ethernet while communicating to standard PLCs and HMIs on EtherNet/IP
Offers TÜV-Certified Function Blocks, application-specific instructions that you can use in a GuardPLC controller's application program
Includes embedded safety inputs, outputs, and multiple communication options
Supports several types of on-board and distributed I/O, high-speed counters, analog inputs and outputs and dry contact safety relays

Products

1753 GuardPLC 1600 Controllers
1753 GuardPLC 1800 Controllers
1753 GuardPLC OPC Server Software
1753 RSLogix Guard PLUS Software

Products

Bulletin 1753 GuardPLC™ 1600 Controllers are among the fastest safety PLCs in the industry. They provide 10 milliseconds throughput and exceptionally high mean-time between failures, ensuring system safety and reliability. These cost-effective, packaged controllers are ideal for smaller applications and provide integrated digital I/O points.

Bulletin 1753 GuardPLC™ 1800 Controllers have the same features as the GuardPLC 1600 controller.These packaged controllers include analog inputs and high-speed counter inputs for specialized applications such as emergency shutdown, flame control and amusement-park ride control.

GuardPLC™ controllers integrate with 1753 GuardPLC I/O modules.

Bulletin 1753 RSLogix™ Guard PLUS programming software helps you develop and test programs for all of your GuardPLC systems. This software is project-based, so you can store programs for multiple controllers in one project. RSLogix Guard PLUS is based on graphical function blocks and supports safety Certified Function Blocks.

Bulletin 1753 GuardPLC™ OPC Server software lets a Windows®-based PC read data from—and write data to—GuardPLC controllers across the GuardPLC Ethernet network.