MELSEC Q Series Standard MES Interface Module
As part of Mitsubishi's e-F@ctory technology, the QJ71MES96 module allows a direct connection from a Q Series Automation Platform controller on the shop floor to high level IT MES (Manufacturing Execution Systems) infrastructure. This offers the following benefits:
No need for intermediate PC infrastructure to interface shop floor controllers to "front office" IT systems

Significantly reduced cost of ownership as no PC maintenance issues apply

Improved security; prevents access by unauthorized personnel

Improved productivity; industrially hardened architecture is immune to typical PC reliability issues

High speed Ethernet connection from shop floor to "front office" IT systems

Convenient installation; module simply mounts in a spare Q Series slot and configures with dedicated software tool (MX-MESIF-STD-C1)
Required Manuals for QJ71MES9
| | | | | |
| --- | --- | --- | --- | --- |
| Model Number | Description | Contents | Included? | Stocked Item |
| IB(NA)0800354 | QJ71MES96 MES Interface Module User's Manual (Hardware) | Basic information on QJ71MES96 module | Yes | - |
| SH(NA)080644 | QJ71MES96 MES Interface Module User's Manual | Complete information on how to use the MES interface module and associated software | No (purchase separately) | - |
Note: Many of these manuals are available by free download from our website, www.meau.com
Performance Specifications
Model Number

QJ71MES96

Stocked Item

S

Certification

UL • cUL • CE

Ethernet

Interface (*1)

10BASE-T

100BASE-TX

Data Transmission Rate

10 Mbps

100 Mbps

Number of Cascaded Stages

Maximum 4 stages

Maximum 2 stages

Max. Segment Length (*2)

100 m

I/O Device Points Occupied

32 points/slots

5VDC Internal Current Consumption

0.65A

Weight (kg)

0.16

Base Unit Slots Occupied

1
Notes:
The MES interface module distinguishes 10BASE-T from 100BASE-TX depending on the device on other end. For connection with a hub not having the auto-negotiation function, set the hub side to half-duplex auto communication mode.

Distance between a hub and node.
Q Series MES Interface IT Module
The MES Interface IT and e-F@ctory technology solves the difficult challenge of efficiently linking factory and IT systems to enable comprehensive data collection and distribution. It achieves system standardization security, and high data reliability for any system from individual machines to large scale production lines.

Access to accurate and reliable production information

Dramatically simplified system architecture

Reduced integration time and effort

Improved security and standardization

Achieves lean and agile operation at the lowest cost of ownership


The MES Interface IT module is a communication interface between IT assets and plant floor equipment.
Each MES Interface IT system should have a minimum of one module and one transport. A transport is added to the module so the module knows how to talk to a database or message queue system. Additional transports can be purchased at anytime.
Mitsubishi Electric MELSEC drivers are included with the purchase of the module. Other drivers are available as options if the module needs to share information with legacy MELSEC or third party controllers.
Device connections refer to the number of controllers or other devices the MES Interface IT module will communicate with. The example to the left has four controllers (one is the local CPU and the other three are networked). The module comes with five device connections. Additional connections can be purchased at anytime.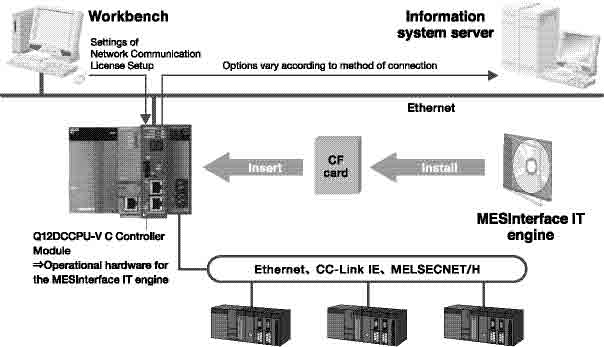 Model Number

Description

Stocked Item

Included items

QJ71MES96IT

Q Series C Language CPU, 128MB

S

MES IT DeviceWise Core

MES IT 2GB CF Memory Card

MES IT 5 Device Connections

MESIT Mitsubishi (EZ Socket) Driver

Extra Device Connections

MESITDVC-5

MES IT 5 Device Connections

S

MESITDVC-10

MES IT 10 Device Connections

S

Transports / Databases

MESITLCLDTBS

MES IT Local Database

S

MESITTRNSORCL

MES IT Oracle Transport + Local Database

S

MESITTRNSSQL

MES IT SQL Transport + Local Database

S

MESITTRNSDB2

MES IT DB2 Transport + Local Database

S

MESITTRNSMQTT

MES IT MQTT Transport + Local Database

S

MESITTRNSSIB

MES IT SIB Transport + Local Database

S

MESITTRNSWMQ

MES IT WMQ Transport + Local Database

S

MESITTRNSPSQL

MES IT Postgre SQL Transport + Local Database

S

MESITTRNSRDM

MES IT RDM Transport + Local Database

S

Drivers

MESITDRVMMC

MES IT Mitsubishi (MC Protocol) Driver

S

MESITDRVRAPLC

MES IT Rockwell Driver (SLC, PLC5, MicroLogix)

S

MESITDRVRALGXTG

MES IT Logix Tag Driver

S

MESITDRVSMNSS7

MES IT Siemens S7 Driver

S

MESITDRVHWKEYE

MESIT Siemens HAWKEYE Driver

S

MESITDRVOMRON

MES IT OMRON Driver

S

MESITDRVALIEN

MESIT ALIEN Driver

S

MESITDRVBANNR

MESIT BANNER Driver

S

MESITDRVEMS

MESIT EMS Driver

S

MESITDRVMBUS

MESIT Modbus Driver

S

Spare Parts

MESIT2GBCF

Spare MES IT 2GB CF Memory Card

S