XC series PLC include XC1(economical type), XC2(basic type), XC3(standard type),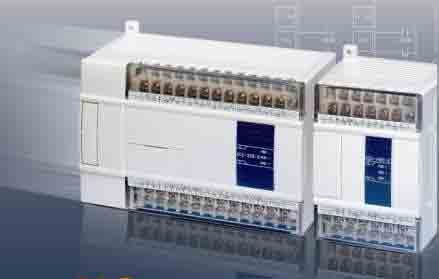 XC5(enhanced type). Thinget PLC is powered by Digital and Analogue Expansion modules, BD boards, motion controllers, PT100, Thermocouple Input equipped with built-in PID controller, and high precision Analog I/O
XC series PLC Main units contain 14~60 I/O points, PNP / NPN Input selectable, relay or transistor and transistor mixed output, AC/DC power supply.
Main Units Model
Digital I/O Expansion
Analog Expansion modules
Special Function Modules
BD board Expansion
MA series modules
High Speed Operation
Applied Instructions
Communication function
PWM ( Pulse width Modulation )
XC3-19AR-E, Main unit with special function
PLC Programming Software
Download General Catalog


Realize special functions to match XC series main units, contains Ethernet module T-box, GPRS module and G-BOX
A low-cost space saving expansion BD board is available for analog I/O requirements. It can also satisfy

users requirement for an additional communication port.
BD boards are also available for XP3 series PLC and HMI integrated unit. Fast and easy configuration makes it ideal for monitoring applications
Basic instruction execution: 0.02~0.5µS, Scan time: 5ms, Programming Memory: up-to 32K
Simple and Easy installation
Compact structure improves panel space utilization.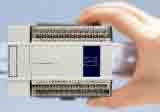 Up-to 7 Modules Expandable
Up-to 7 expansion modules can be connected to main CPU allowing user to use a maximum of 288 I/O directly addressable. Further I/O expansion can be done through MA modules.
Expansion Modules are available in various configurations to meet all application requirements.
Multiple communication ports are available(4 at most) including RS-232, RS-485, CAN Bus. Through these user configurable ports user can connect and control numerous industry standard devices including VFD's, Temperature controllers, Barcode readers, and other peripheral devices.
Easy and free Programming Software
XCP-Pro software supports all major PLC programming language standards including Instruction, Ladder, STL, FB and others.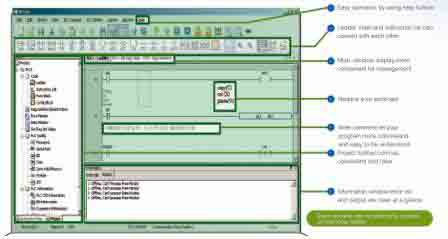 Built-in Real Time Clock and battery backed 32K user data memory provide XC series the economic advantage over its competitors.
6-bit ASCII password protection provides program security and prevents unauthorized PLC program uploading.
Self-diagnostic features: Power-on Check, monitor check, battery voltage check, expansion module fault, and program syntax check.
High Speed Count Interrupt Function
High speed pulse counter with interrupt functions are available for precise application needs. 16-bit and 32-bit set values are supported.


By using of a high speed counter electronic cam function can be emulated
PWM Pulse Width Modulation


With PWM instructions, user can use pulse width modulation to control UPS, servo motors and VFD's
XC3-19AR-E, Special PLC Unit
This special PLC module has built-in analog inputs and outputs and makes it highly suitable for a low cost solution to small machine automation.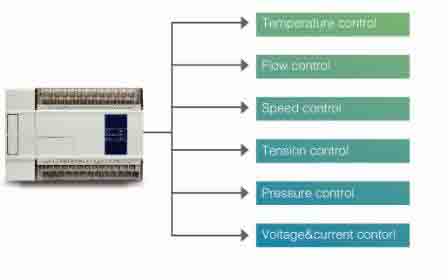 It has the following features
Integrated logic control, Digital and Analog I/O in one unit.
PID temperature control

2-channel 32 bit pulse output

10 bits analog I/O

Supports 3-channel AB phase input

Supports 4-channel single phase high speed count(20KHz)

Cost, effective, save more space
MA Series Remote I/O Modules
MA series modules can connect with PLC, PLC& HMI integrator, HMI and other devices via RS485 and Modbus RTU/ASCII protocol. It has various types, can meet all your requirements for remote analog and digital control
AC Power

DC Power

Inputs

Outputs

Relay

Transistor

Mix

Relay

Transistor

Mix

XC3-14R-E

XC3-14T-E

XC3-14RT-E

XC3-14R-C

XC3-14T-C

XC3-14RT-C

8

6

XC3-24R-E

XC3-14T-E

XC3-24RT-E

XC3-24R-C

XC3-24T-C

XC3-24RT-C

14

10

XC3-32R-E

XC3-32T-E

XC3-32RT-E

XC3-32R-C

XC3-32T-C

XC3-32RT-C

18

14

XC3-48R-E

XC3-48T-E

XC3-48RT-E

XC3-48R-C

XC3-48T-C

XC3-48RT-C

28

20

XC3-60R-E

XC3-60T-E

XC3-60RT-E

XC3-60R-C

XC3-60T-C

XC3-60RT-C

36

24
Digital Expansion Module Chart
                                Model       

Inputs

Outputs

Relay

Transistor

XC-E8YR

XC-E8YT

---------

8

XC-E16X

---------

16

---------

XC-E16YR

XC-E16YT

---------

16

XC-E8X8YR

XC-E8X8YT

8

8

XC-E16X16YR

XC-E16X16YT

16

16

XC-E32X

---------

32

---------

XC-E32YR

---------

---------

32
Analog Expansion Module Chart
Name

Model

Function

Analog

XC-E4AD

12 bit, 4-Channel I/V inputs

XC-E8AD

12 bit 8-Channel I/V inputs

XC-E2DA

12 bit 2-Channel I/V output

XC-E4DA

12 bit 4-Channel I/V output

XC-E4AD2DA

12 bit 4 Channel input, 2 channel output I/V configurable

XC-E6PT-P

6-Channel PT100 PID control module

XC-E6TCA-P

6 Channel Thermocouple, PID control module

CAN bus

XC-EC8X8Y

Long distance 8 inputs, 8 outputs, remote I/O module

XC-EC16X16Y

Long distance 16 inputs, 16 outputs, remote I/O module